Safer Than Pressurized EAF Water-Cooled Panels
SYSTEMS Spray-Cooled™ upper electric arc furnace shells/sidewalls provide the Safer alternative to pressurized water-cooled panels.  Incorporating the standard Spray-Cooled™ one-piece design concept, our electric arc furnace shells offer the added features of integrating the upper shell and the sump cover into one single piece. This further reduces panel gaps and is much tighter, more efficient, and cleaner than a twin-shell electric arc furnace. Our enhanced slag retention system and point heat-load cooling capabilities can withstand even the most problematic hot spots.
The methods of electric arc furnace construction employed in the SYSTEMS Spray-Cooled™ sidewall provides for maximum simplistic flexibility to modify, add or remove operating ports such as burner openings, injector ports, sanding hole, slag tunnel, etc. without the need for costly redesign and new panel procurement. This flexibility also carries forward to the shell's interface with the furnace roof and bottom shell to provide additional charge volume within the confines of the existing equipment.
One-piece "single panel" shell has fewer panel gaps than a twin-shell EAF
Non-pressurized water-cooling
Eliminates high-pressure, high-volume water leaks
Dramatically reduced flame and fume emissions
Point heat-load water demand capable
Thin carbon steel plate construction
Enhanced slag retention
Integral one-piece upper shell & sump cover
Eliminates conventional inside water-cooled panels and potential arcing between panels
Increases available scrap volume
Indefinite service life with "Rebuild versus Replace" techniques
Light weight reduces wear and extends the life of lifting gantry, turret bearings, etc.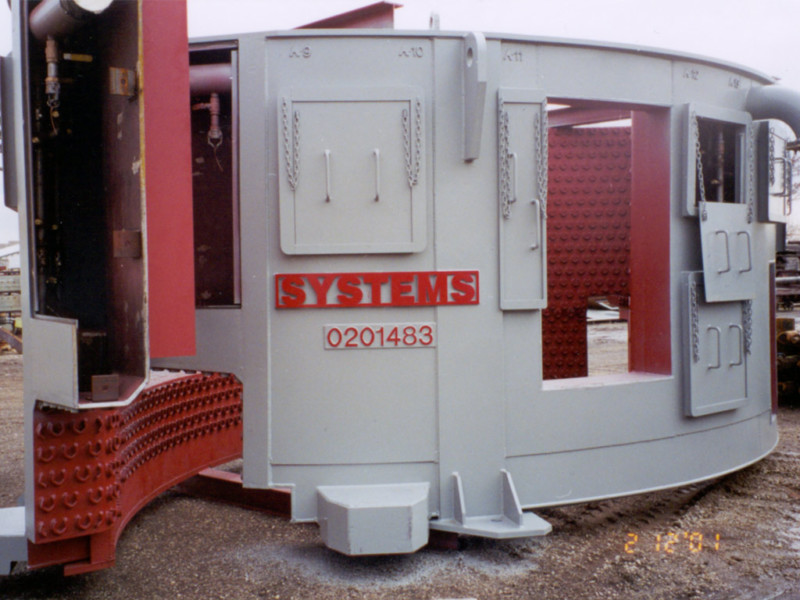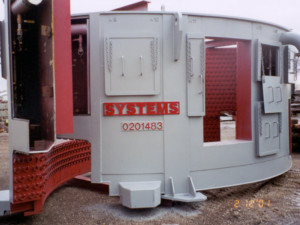 EAF Shells / Sidewalls Video
Improving furnace reliability while decreasing and easing maintenance requirements, providing safer working conditions in a cleaner environment, reducing the cost of spare parts inventories while extending the service life of the equipment, and providing for more production with less energy – SYSTEMS Spray-Cooled™ equipment is "Staying Cool in a Hot Business".