Basic Oxygen Furnace Hoods
The extreme heat loads created during oxygen blow, the detrimental erosion and corrosion conditions present, and the grave difficulties of repair and replacement were all significant considerations in making the decision to develop the SYSTEMS Spray-Cooled™ Basic Oxygen Furnace Hood design. All of the many technological, Safety, environmental, operational, and maintenance benefits of our Spray-Cooled™ equipment are present in the SYSTEMS Spray-Cooled™ BOF hood. Years of successful operation have proven the viability, economy, and reliability of our technology in this most demanding of applications.
Spray-Cooling's™ more efficient cooling methods stand up to the extreme heat loads seen in the BOF hood's lower oxygen lance panel.
Increased equipment service life
Safer basic oxygen furnace steel-making operations
Reduced maintenance downtime attributed to BOF hood water issues
Thinner hot face plate has reduced the magnitude of thermal stresses
Elimination of flow baffles allows hot face to expand and contract freely, reducing thermal growth stresses and making the inner liner and outer liner independent. This further reduces distortions and failures due to the resultant stresses.
Ability to size and locate spray nozzles according to the required local cooling as it varies throughout the hood. This is conducive to better water management and efficient utilization of cooling water.
Lighter-weight hood reduces supporting system requirements
No special chemical treatment of the cooling water is required.
The hood can be more easily created in smaller, more manageable panels to ease removal, repair, and replacement
Routine repair procedures can be accomplished from the outside, while in situ, eliminating the need for time-consuming and costly overlay procedures.
Increased shop productivity attributed to the Spray-Cooled™ Basic Oxygen Furnace Hood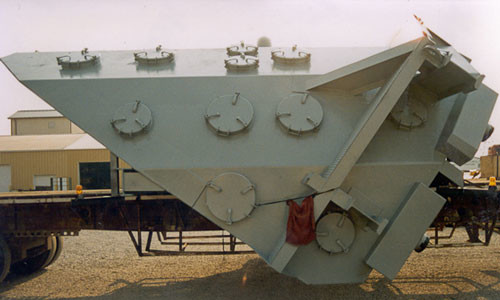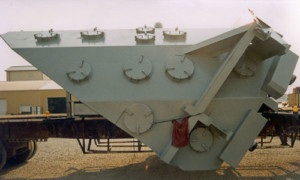 Improving Productivity Worldwide
Improving furnace reliability while decreasing and easing maintenance requirements, providing safer working conditions in a cleaner environment, reducing the cost of spare parts inventories while extending the service life of the equipment, and providing for more production with less energy – SYSTEMS Spray-Cooled™ equipment is "Staying Cool in a Hot Business".